LUMATEK VF90W LED
Three 30W LED bars with 4000K White and 3000K Warm White diodes, with a total PPF output of 244 μmol/s and a 2.4 μmol/J Efficacy. 
The fixture will require 650W Driver (sold separately) that can run up to 7 units of VF90W fixtures
LUMATEK VF120W LED
Four 30W LED bars with 4000K White and 3000K Warm White diodes, with a total PPF output of 308 μmol/s and a 2.4 μmol/J Efficacy. 
The fixture will require 650W Driver (sold separately) that can run up to 5 units of VF120W fixtures
The  Vertical Farming Range (VF Range) is an ideal Led fixture for seedlings, clones and for any low PPFD target plants.

These versatile high efficacy fixtures are perfectly suitable for Vertical Farming applications. From propagation factories and nurseries, climate chambers, warehouse farms, containers, between others, the Lumatek VF range will deliver the adequate light quality spectral and photon flux levels needed. 

The VF range includes the new cellar Glue protection cover technology on the LED bars,  resulting in higher light transmittance of 99% without light loss, extended lifetime of diodes, extra corrosion resistance and high waterproof of IP65. For basic maintenance, simply clean the bars with wet cotton.

The fixtures will require 650W Driver (sold separately) and can be dimmed with a 0-10V Light Dimmer (also sold separately) or externally controlled with the Digital Panel Plus 2.0 or any other Universal Controller 0-10V. Also, the daisy-chain driver connectivity is possible if you would like to add more units to your system so you can dim all fixture with a single dimmer.
For large facilities, where the 3-Phase electrical supply domains, a 400 Volts, 650W Driver is more suitable.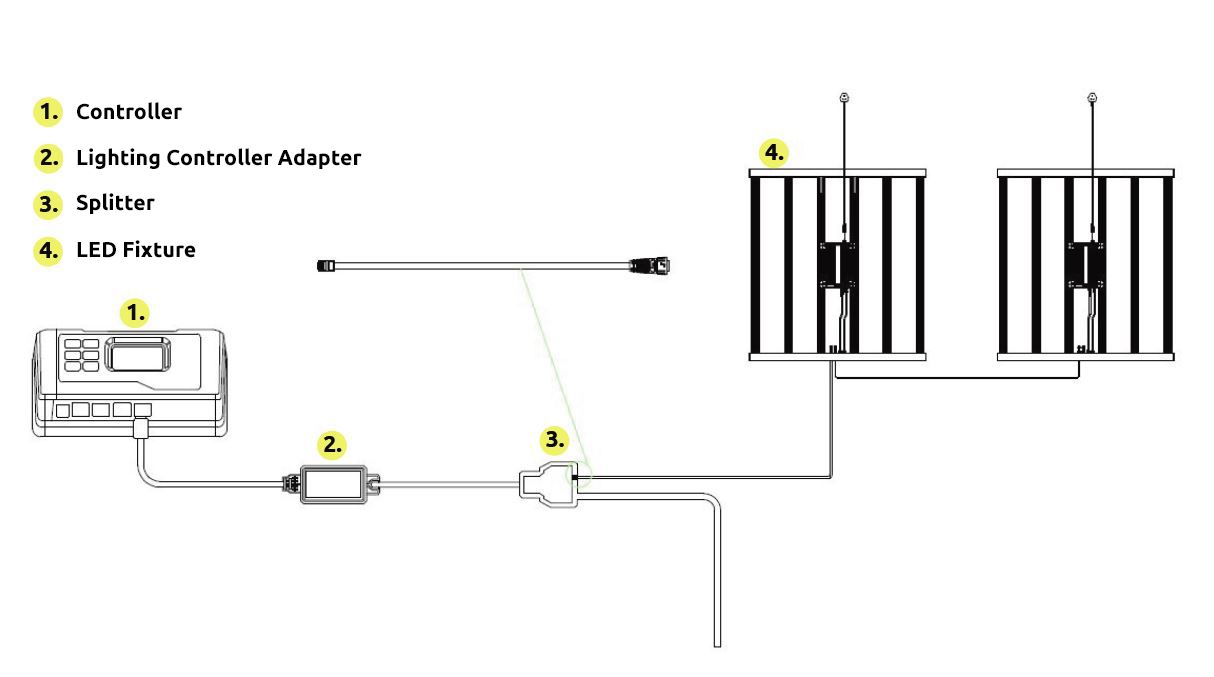 Universal Control Systems Compatibility

Lumatek LED Fixtures can be fully controlled with either the Lumatek Digital Panel Plus 2.0 or with any other Control System that utilises 0-10V output signal. Even if your Universal Controller has an RJ port interface, you can still run our LEDs by using a signal converter RJ to 0-10V control adaptor.
Variant

Power (W)

Voltage (V)

Input Power

PPF (µmol/s)

PPE (µmol/J)

Colour temperature (K)

Lifespan (h)

Beam Angle

Power factor

Dimming

Controllable

Dimming range

Cooling

IP Rating

Light Source

Dimensions

Weight

Warranty

Controller

Footprint

Qty of led bars

Driver

ID
Vendor ID
Price

90 W

90 W

220-240V or 277-480V

95W

244 µmol/s

2,4 µmol/J

3600 K

60 000 h

120°

0,95

Yes

Yes

OFF - 25% - 50% - 75% - 100% with 0-10V Light Dimmer (not incl.)

Passive

IP65

4000K WHITE High Spec Diodes, 3000K WARM WHITE High Spec Diodes

120,7 x 5,21 x 2,05 cm

1,72 kg

3 Years

Lumatek Digital Panel Plus 2.0 - Up to 100 fixtures - Not incl.

1,2 x 0,6 m

3 x 30W

650W VF Driver (not incl.), Runs up to 7 Fixtures

CVG05892

LUMLED014

294,00

 €

120 W

120 W

220-240V or 277-480V

124 W

308 µmol/s

2,4 µmol/J

3600 K

60 000 h

120°

0,95

Yes

Yes

OFF - 25% - 50% - 75% - 100% with 0-10V Light Dimmer (not incl.)

Passive

IP65

4000K WHITE High Spec Diodes, 3000K WARM WHITE High Spec Diodes

120,7 x 5,21 x 2,05 cm

2,1 kg

3 Years

Lumatek Digital Panel Plus 2.0 - Up to 100 fixtures - Not incl.

1,2 x 0,6 m

4 x 30W

650W VF Driver (not incl.), Runs up to 5 Fixtures

CVG05893

LUMLED015

325,90

 €