Analogue Multi-Channel LED Controller

Take the headwork out of optimising your garden with the HELLION LED EASY. Simply power up, pick your photoperiod, dial in the perfect spectrum and you're good to grow.

KEY FEATURES
Control up to 100 HELLION VS3 LED fixtures (50 per zone)

Dial-in spectrum with independent VEG, BLOOM and UV channels

Select from eight preset photoperiod settings

0-100% manually adjustable dimming across three channels


Control unlimited fixtures when used with MASTER CONTROLLER

Uses standard RJ11 data cables


CONTROL UP TO 100 FIXTURES


Adjust the spectrum and intensity of up to 100 HELLION VS3 LED fixtures simultaneously across two separate zones. (50 fixtures per zone.)




Combine the HELLION EASY CONTROLLER with the HELLION MASTER CONTROLLER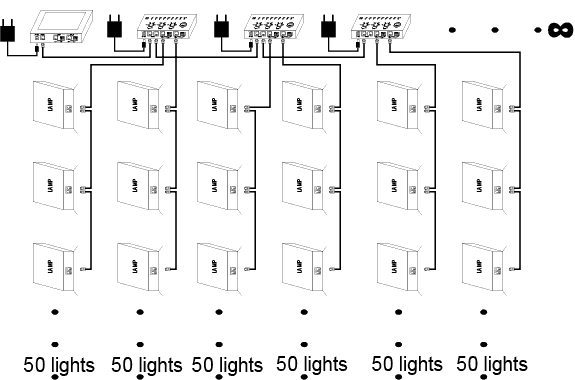 USAGE TIPS

Using EASY Controller alone: TWO zones can be controlled simultaneously



Using EASY Controller together with MASTER Controller: TWO zones can be controlled individually



When using together with MASTER Controller the 'OFF' indicator will flash and manual knob dimming will be disabled. MASTER Controller will override all EASY Controller settings.
Power (W)

Voltage (V)

Dimming range

Temperature tolerance(°C)

Dimensions

Weight

Warranty

Light control channels

Control Volatge Outputs

Max. Lights per Zone

Max. Cable length per Zone

ID
Vendor ID
Price

4W

12V

0-100%

-20° - 50° °C

14,5 x 6,1 x 3,0 cm

1 kg

1 Year

3

2 (1 per Zone)

50

100m

CVG04975

HLEC

63,00

 €